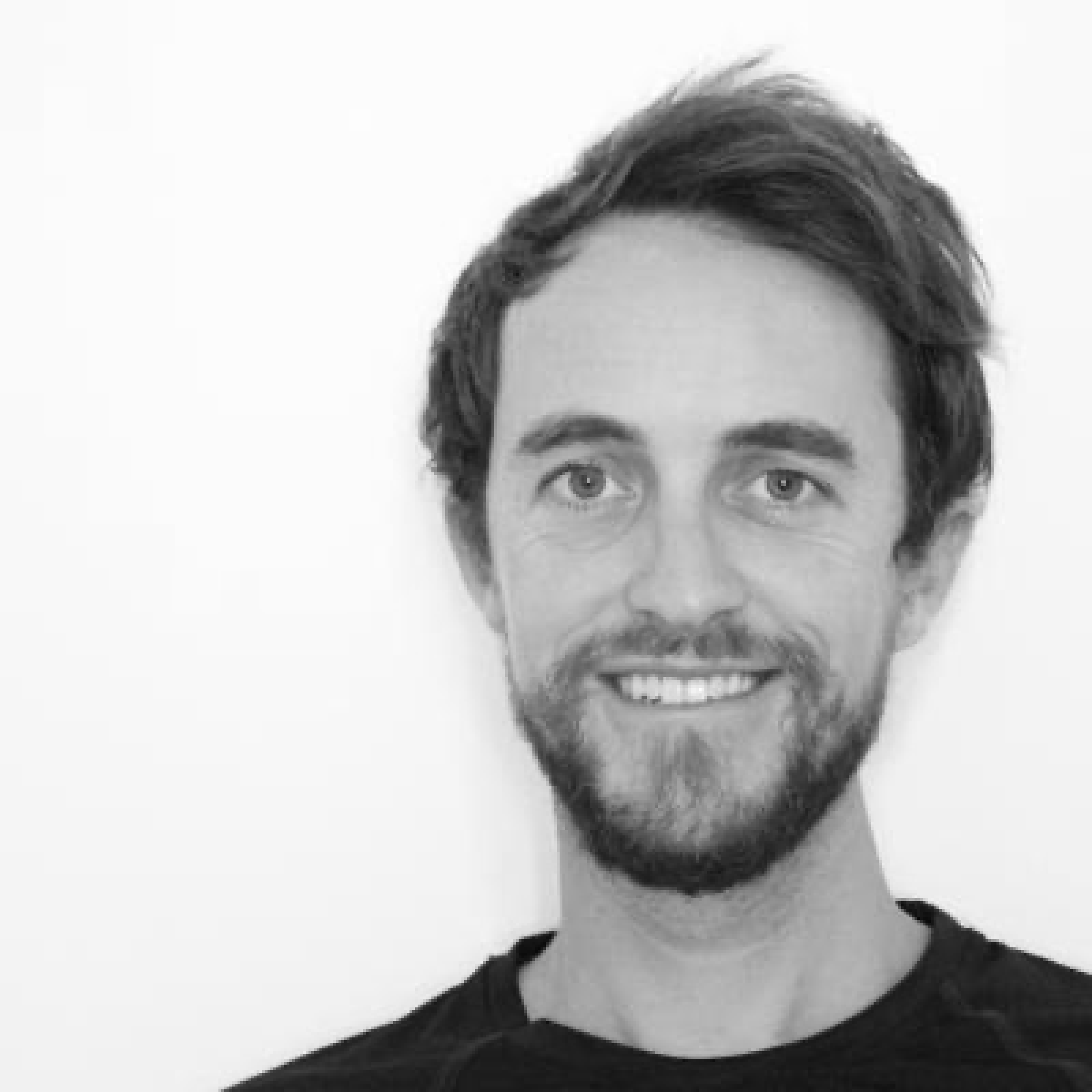 Anton Stout
UX Strategist | Product Designer | Product Manager
FLYBUYS
Wesfarmers undertook a directive to separate flybuys from Coles.

Versent was awarded their largest contract to date; $20m+ to lead cloud and digital migration to move the technology stack to AWS.

As UX/CX Lead I drove the new design and supported both flybuys and our team from discovery through to delivery while best-of-class processes.
What is Flybuys?
flybuys is Australia's largest and most recognised customer and partner loyalty/rewards program with over 12 million cardholders across 6 million households.
Members can collect points and redeem on everyday purchases.
What makes it unique?
Unlike other loyalty programs, flybuys boasts 12m active members and leading brand partners that enable it to provide rich data insights into consumer purchasing behaviour.
Objectives
Redesign the current state flybuys: Registration, account activation, sign-in (low/high state), account recovery, MFA/2FA, security centre, and migration flow with accompanying modifications in the user, partner, and account dashboards.
Roles and Responsibilities
UX/CXs Lead
Stakeholder management

Customer/user research

Journey mapping

Workshops and presentations

Voice of Customer/Employee

KPI/metrics

Current state prototypes

Usability testing

High fidelity UI

Functional specs

Design system
Duration
Discovery: 8 weeks - onboarding to executive presentation (validated prototype)
Acceleration: 16 weeks - validation, iteration, refresh, and production
Outcome
Production-ready desktop website validated with customers, business (marketing, operations, analytics, partner team, technology), security, and technology - sign-off from all concerned departments.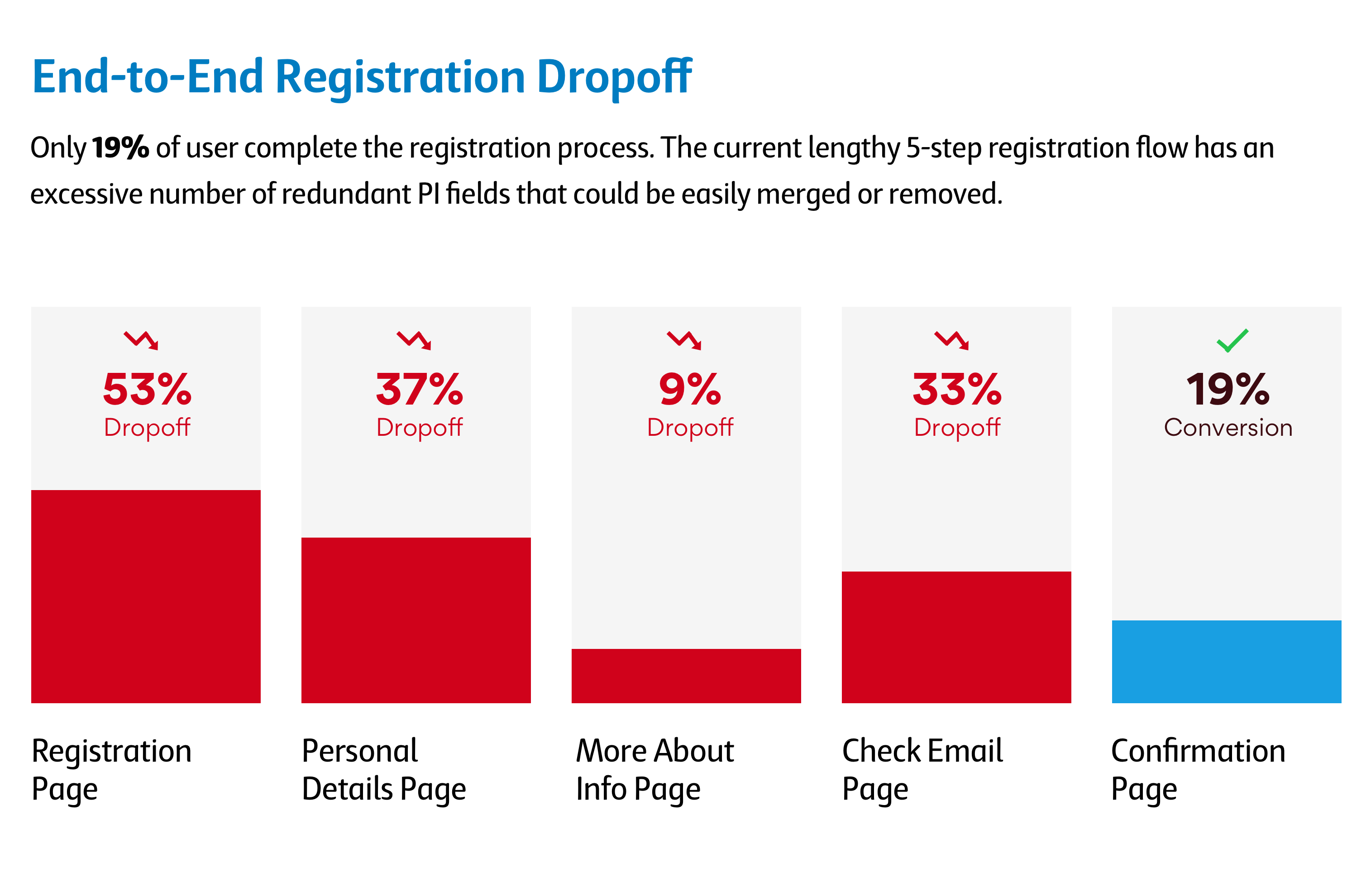 Stakeholder Requirements
During the Discovery phase, I worked closely with the Head of Marketing and Coles design team. I assembled a high-level definition of success and gathered problem statements, key objectives and requirements.
Next, I ran workshops with the C-suite and Heads of each depart to surface and refine requirements.
There were a number of conflicting use cases and edge cases between Marketing, Analytics, and Operation departments.
Given the requirements challenge, the decision was to refocus the narrative on user requirements.
Analytics and Heuristics Review
Using Adobe Campaign and GA reports, I undertook a gap analysis against current state analytics and provided a list recommendations for quick wins.
Heuristics involved annotated notes of key issues with all major flows compared to design principles and direct and non-direct competitor sites.
The analytics and heuristics report was presented to the C-suite. Approval was granted for redesign.
Key Takeaways
This ushering in of a new, scalable era for flybuys was exciting and senior stakeholders dusted off extensive change wish-lists. Many departments had conflicting needs, requiring a delicate workshop approach and metric-level reporting to depoliticise the conversations.

Only minor design updates to the site had been made in the past 3 years so on-page conversion rates were largely the same across all journeys.

eDM and in-store campaign efforts were cause for seasonable spikes in traffic and conversion.

This data provided a clear picture of funnel drop-offs and poor conversion, due to form, navigation design, and lack of device and browser compatibility.

Beyond improving existing flows, I was designing several new flows (MFA/2FA, account security centre, and migration flow) the processes become clear that delivery would involve a combination of collaboratively creating basic UX artefacts (personas to build a common-language) to be given the green-light to assemble validated user cases/requirements and then to blend with both the business, technology, and security requirements.

Current-state desktop conversion rates (CVR) seen below
50%
Fingerprint login CVR
Contextual Interviews
To bring an attitudinal context to the data, I interviewed 8 flybuys members. Then, undertaking contextual enquiry reviewing how members use the card or app in-store, engaging them at check-out, and discuss their experience.
Co-Design
Workshops with the Marketing, Analytics, Partner, and Operations department heads were held to unpack key requirements; time-boxed discussions, ideation, and voting.
The goal was to sweep up all the issues and co-design key design artefacts that had been flagged as requirements by the sponsor.
Armed with contextual research results and analytics data we discussed the requirements list, tipped those into pulling out segmentation data (Experian Mosaics Classifications) to co-designing personas (below), members, and partner journeys for each segment, reframing, and prioritised use cases.
Key Takeaways
Managing expectations: Internal change requests had been banking up for some time. The primary concern was that what senior stakeholders believed to be critical needs, had to be reframed towards the user experience and redirected back to both the qual/quant data.

Post all-hands workshops it was evident that everyone was clear and excited about the update. But not without concerns, Insights team wanted to capture considerable data at registration while Marketing was pushing for a stronger onboard experience.

I needed to prototype and validate with users, bring real data back to the conversation to cut through the noise.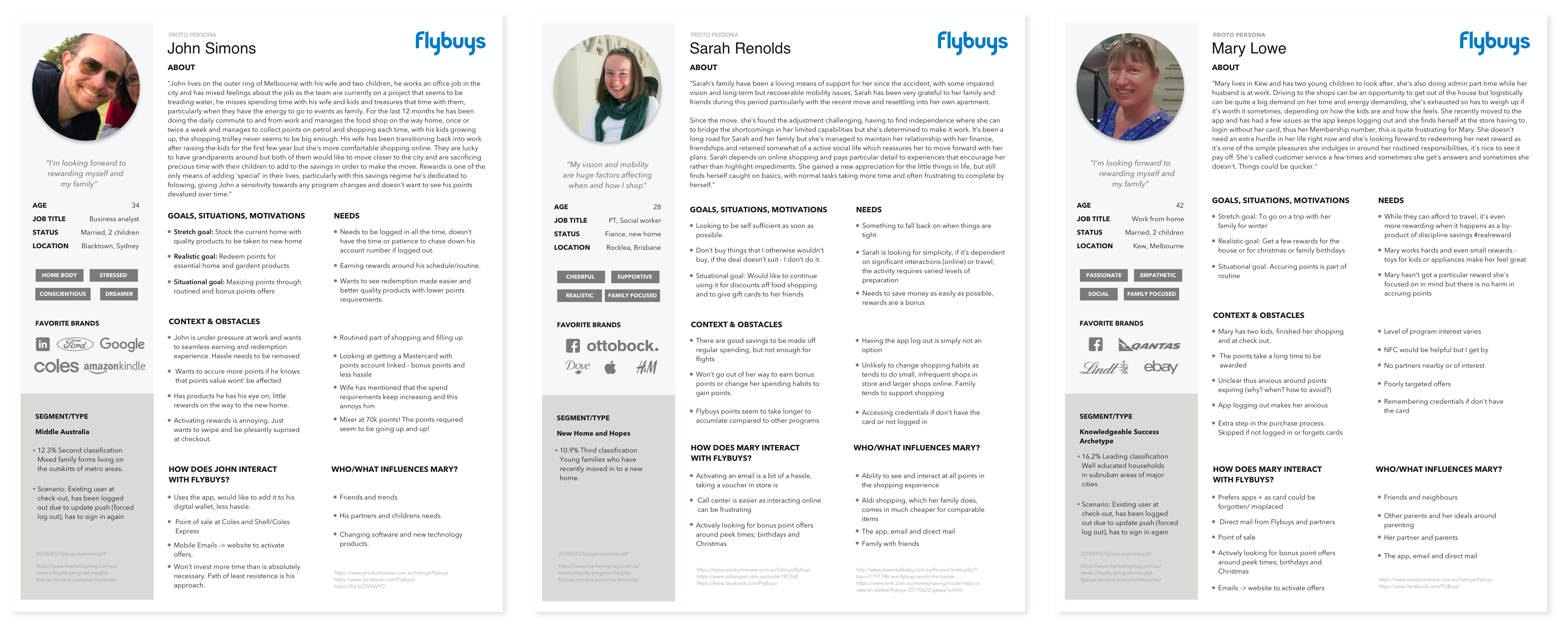 Stakeholder Interviews
Flybuys employees across Data, Marketing and Operations and Technology were looped into the program of work conversation, I arranged 1:1 time as directed by the department heads, speaking with team members and getting a greater understanding of the processes underpinning the product and services across the journeys.
Service Blueprint
Armed with the journey, business, and system data and with a wealth of insights across the user journey and technology touch-points, it was apparent that service blueprint was needed for current state to allow all teams to zoom in and out on each touchpoint. I drafted, workshopped and delivered the final poster to all departments.
Key Takeaways
Validated touch-points was a strong rally point for all the teams, primer for the portfolio roadmapping work we did next in Jira.

Technology and tool choices were taking considerably involved, highly politicised conversations, which surfaced/become more transparent once the mapping had taken place.

The conversation moved to future state very quickly from this point.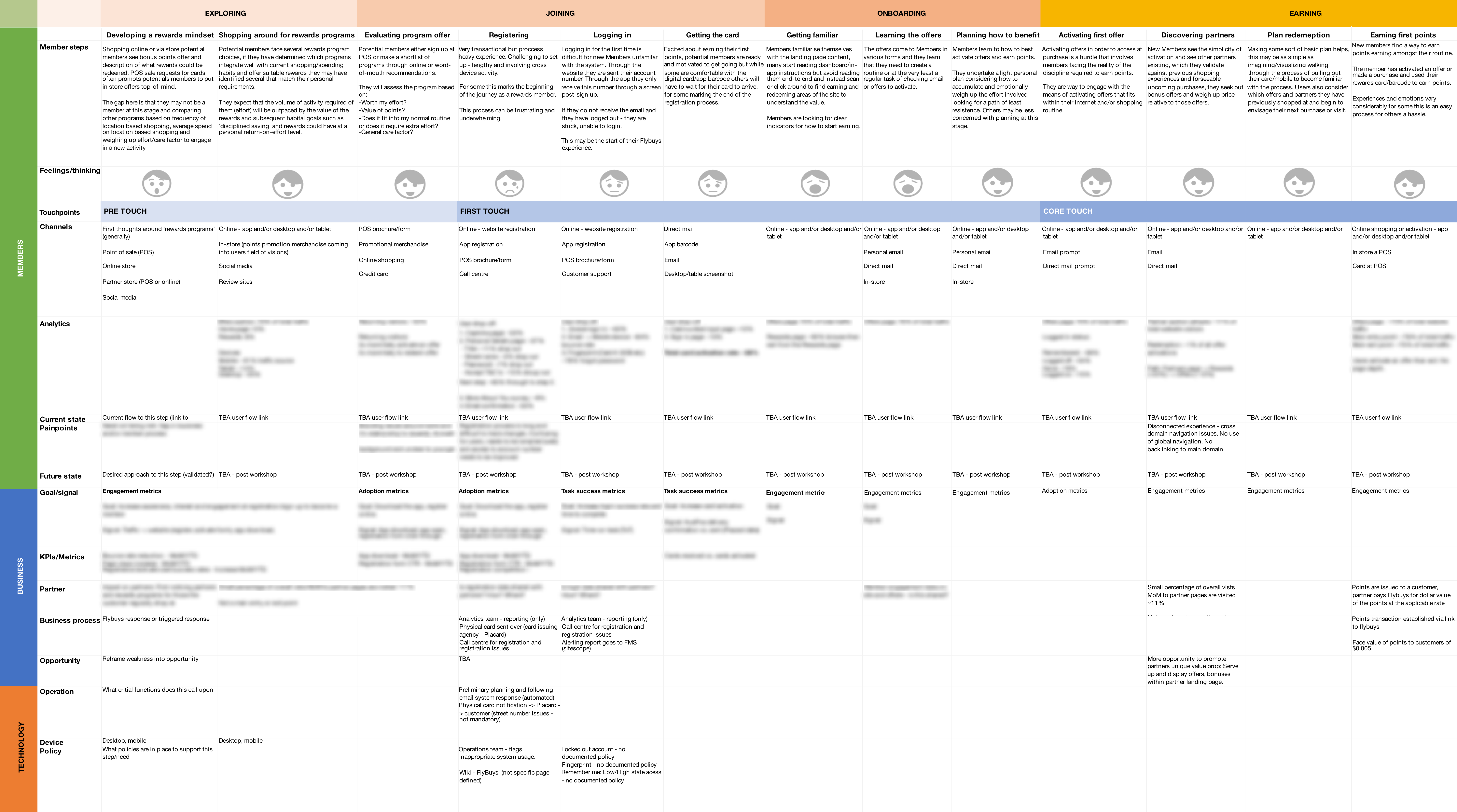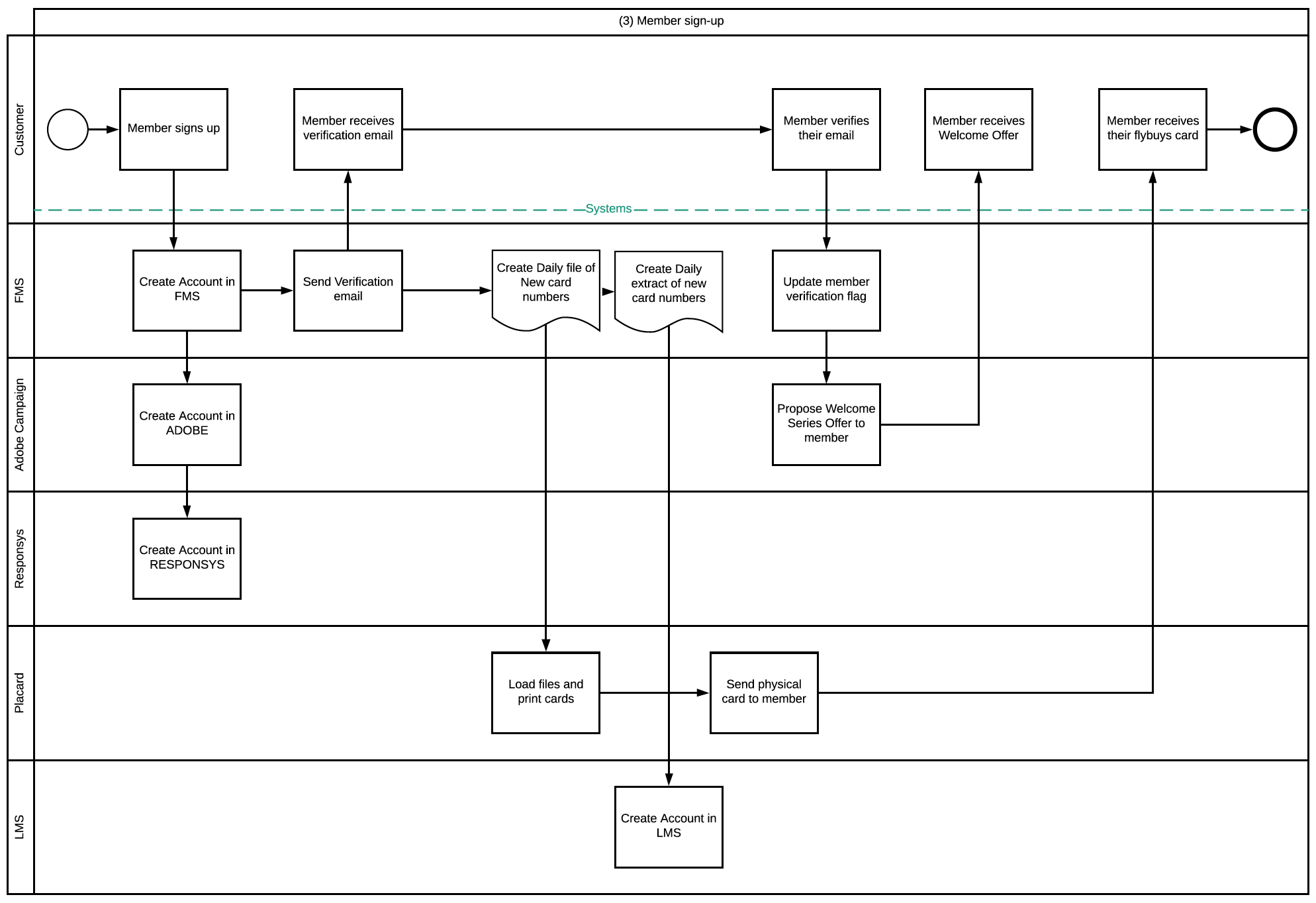 Screen flows
Security and technology requirements were coming up fast. I needed to deep dive into the system flows, leveraging both Versent's BA and Coles/flybuys BA to talk me through current state back-end systems to map impact and limitations to future state concepts.
Despite the fact we were migrating all household/PI accounts to AWS, the design was, initially, a lift and shift process, in other words, no design refresh at this stage and I needed to work within the architectural constraints of the current system for prototyping purposes.
Competitive analysis
All competing flows from Velocity, Myer One, Woolworths Rewards etc were screenshot, hotspot, moved into Marvelapp and tested with 6 flybuys members, in two separate test sessions, to observe errors, fail rates, time on challenges, for specifically exploratory and specific navigation tasks.
These insights helped shaped concepts and second session with modifications such as multiple page/slider onboarding with 'member stories/testimonials' throughout registration.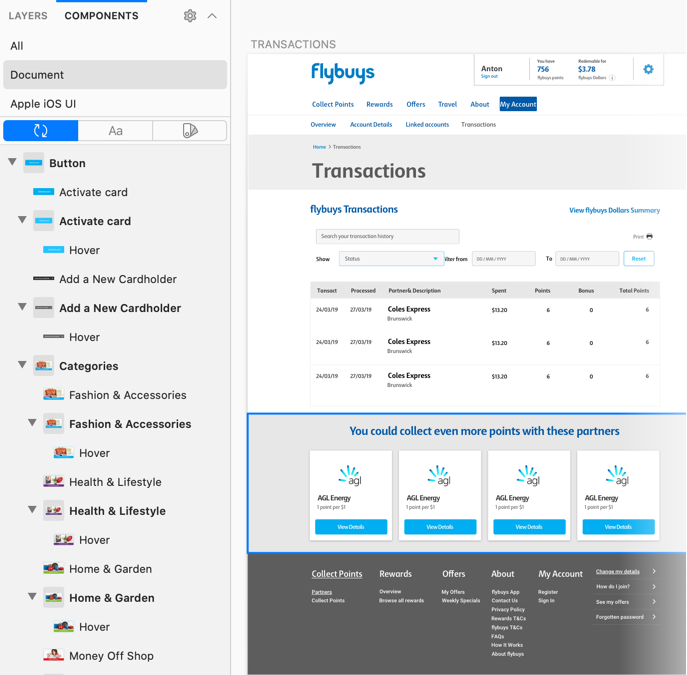 Component library
flybuys had no current state UI design - at all. I rebuilt the site (screens, modals, notifications etc) in Sketch and imported into Figma structuring and building out the component library (static), microcopy and all positive and negative states.
This highlighted a number of inconsistencies across the Account and Partner view (the Analytics and Partner team's area of ownership/focus) and the Onboarding flows (Marketing and Operations team's area of ownership/focus).
This also underlined the opportunity for a design refresh.
Working with the current state component library, I used this to streamline the assembly of concepts for user testing purposes.

Updating flows
The original/control Registration form (left) and multiple other flows required updating to fix severe bottlenecks and dropoffs in the process and to clean up PI and household data for better segmentation and offer targeting.
I redesigned Registration, Card Activation, Log-in (soft/hard states), Account Recovery flows (significant drop-off/conversion issues across various dimensions (mobile/browser)), MFA/2FA, Account Security centre and Migration flow.
Design Refresh
With multiple new flows and no budget for A/B testing or CRO, I undertook usability testing across two separate rounds (4 participants per variation) to validate concepts again using both exploratory and specific tasks.
Key takeaways:
As Coles/flybuys was accustomed to running product focus groups as part of testing, it was decided that we would include them. Usability testing had to be conducted to compliment the HL insights from focus groups.

I was only granted limited budget to undertake testing, I ended up taking a guerrilla approach, at the store level, to meet quota.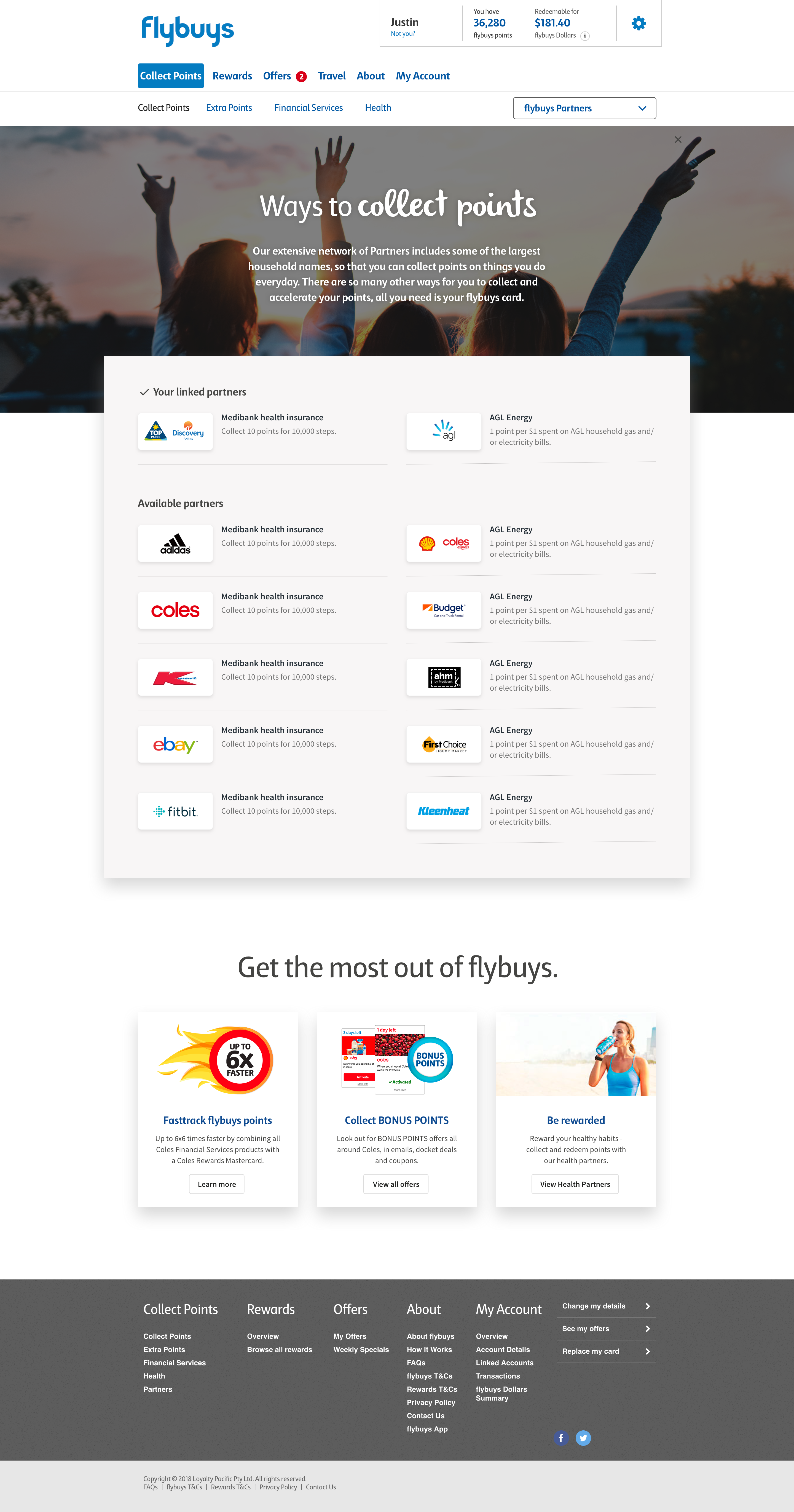 Validated artefacts
All research artefacts and reports, all screens and prototypes (positive and negative states, microscopy, and final designs) were created and delivered to flybuys within the deadline.
Functional specifications
Jira/Confluence was used to document all requirements. I drafted and ranked each backlog item, including developer notes in Sketch for hand-off. The RPB included images of the design (including +/- states), validated use cases, acceptance criteria and links to the component library.

The sponsor was delighted with the outcome, the new customer-led conversation within flybuys and the addition of user requirements to the existing business and technology requirements.
Stakeholder alignment
The mandate by Wesfarmers to move off the Coles stack represented a significant change for the business with a great deal of competing priorities and high expectations. The stakeholder and expectations management component was significantly more than expected but not insurmountable.

Flybuys had been reliant on Coles design department for all of this UX/UI outputs. While the relationship was excellent, it had resulted a low cadence in terms of output with the flybuys website getting sporadic updates as a result of numerous cross-department requests. This resulted in inconsistency across the design/experience and segregated ownership around primary journey pages and touch points. This fed into the stakeholder management effort.

To bolster the Flybuys design function, an early move was to resource the flybuys Marketing Department with additional resources, however, this team was mainly responsible for eDM oversight (always on and seasonal campaigns) and mostly concerned with visual design. They borrowed heavily from the new product research approach (segmentation, analytics and focus groups) and were new to adopting UX research and design activities in order to answer many of the upcoming migration design challenges. This required a straddling of both old and new methodologies to bring familiarity to a new process.
C-suite support
Considerable trust and autonomy given to the team to get unfetter access to all assets offset the challenges elsewhere and I was able to move quickly with little to no constraint.

Despite initial guidance not to undertake stakeholder interviews, 1:1 interviews with all key stakeholders prior to our workshops proved invaluable in building rapport and streamlining approves at the concept stage.

The flybuys Product Managers assigned to each squad saw considerable uptick in collaborative effort and momentum in the project. Technical know-how was varied with the PMs resulting in merging of teams as requirements evolved.
Integrative process
Each department had competing feature and tooling wish-lists which required scoping/estimation from new established teams and comparative assessment and prioritisation from flybuys. Early, there was no clear authority on these decisions, post-discovery it took two-months for a Product Management-to-Squad structure to be introduced which solved the issue. This was a lost opportunity to build momentum early.

With sweeping changes to the website, research was not nearly as robust as required. Too few participants around attitudinal data, and little previous research data yielded statistically insignificant insights and test results.

Use case gaps were filled with stakeholder wish-list features that caused friction within the broader team. Unfortunately, better research; user interviews, survey, A/B testing etc could have cut-through the noise and remedied much of the discussions taking place. Valuable time was lost.

Multiple vendors working on the production state introduced unnecessarily complexity to prioritising resulting in avoidable delays and rework at each hand-over point.
Building practice
We moved into the Acceleration Phase of the project, hired another ~40 people and undertook a design refresh that flybuys used their new design team to lead.

I moved from customer-facing experience to partner-facing experience and built out the BI dashboards against internal use cases.

Post-delivery of analytics dashboards for Kmart and Target, I moved back into Versent as the Digital Practice Director - evangelising UX design and standing up the Digital practice. This role included establish the operational processes, developing the digital playbook (Confluence), creating presentation decks, working with the Sales team to bring in new clients, developing case studies, presenting findings Versent wide, developing the hiring manual, building out contractors/employee relations, working with our collaborative delivery partners etc.

From late 2019, flybuys launched each new web flow periodically, the customer-facing components of my work went live.