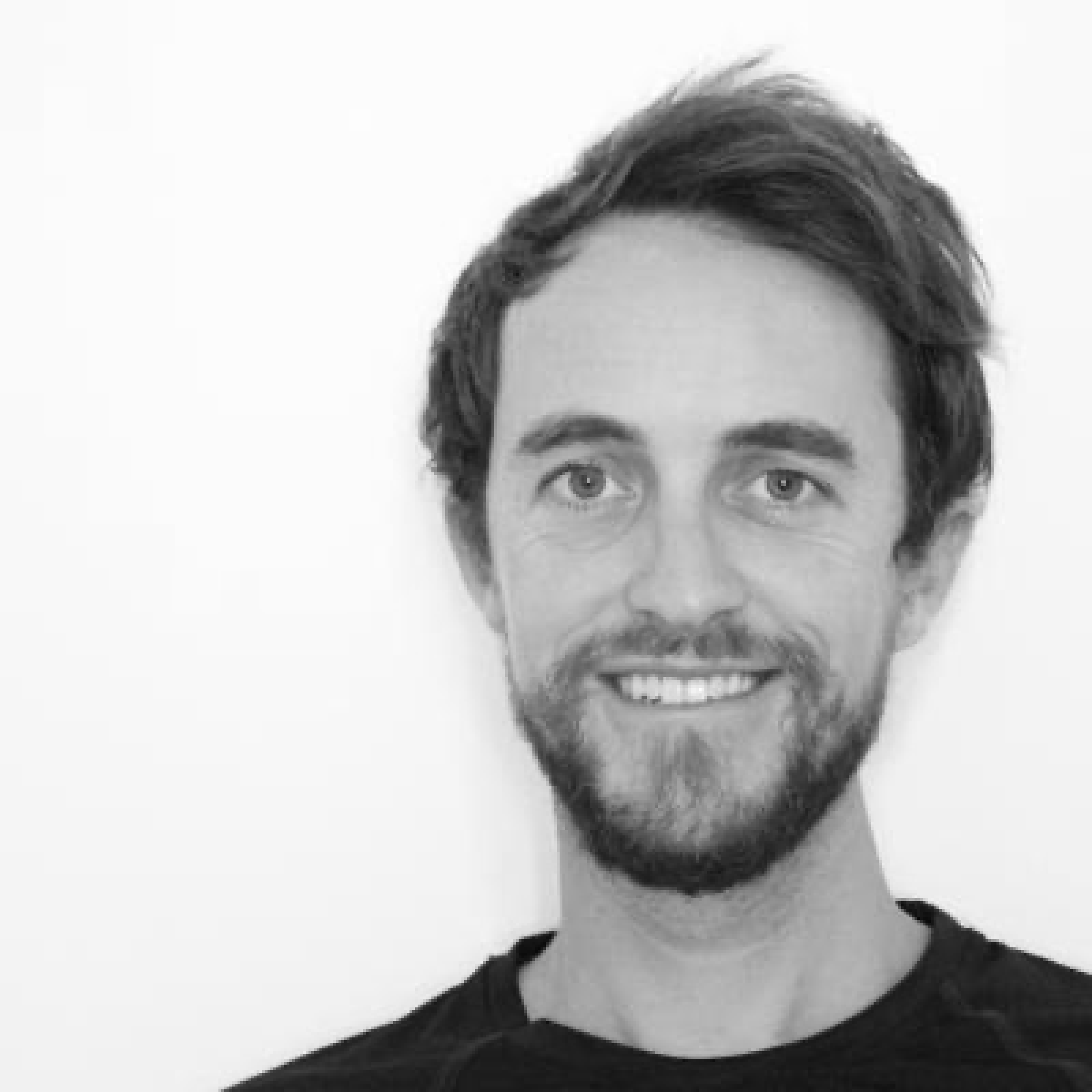 Anton Stout
UX Strategist | Product Designer | Product Manager
MYER
Improving Myer's customer experience as a Sr. Product Designer. Leading Service Design initiatives to improve operational hygiene
Bringing two of Australia's most iconic brands together.
I spearheaded numerous intricate internal projects aimed at enhancing Myer's operations, where I served as the Lead Designer. These initiatives included:
Intensive Service Blueprinting: I meticulously mapped out the entire operational ecosystem of Myer, enabling us to gain a comprehensive understanding of its intricacies.

Redesigning In-Store Point of Sale Software: By completely revamping our in-store Point of Sale software, we significantly improved both check-out times and the overall staff experience.

Designing the Promotional Teams Software: I developed an innovative software solution to manage discounts and offers appearing on the Myer website and in-store, providing a seamless promotional experience.
Additionally, I assumed the role of Lead Designer for our flagship and roadmap projects, which encompassed the following achievements:
Pay with Points Integration: Collaborating with CommBank and Velocity, we successfully integrated a "Pay with Points" feature, resulting in a remarkable $40 million increase in revenue for Myer. This project stands as Myer's most successful digital endeavor to date.

Enhanced Customer Delivery Experience: I orchestrated improvements to our customer delivery process, introducing an Express Delivery option that elevated the overall experience for shoppers.

Optimized Pricing on Converting Product Pages: By enhancing the pricing presentation on key product pages, we increased conversions and maximized sales.

Expanded Payment Options: To facilitate faster payments and checkout, we expanded the available payment methods to include Card on File and Paypal options.

Immersive Shopping Experiences: I spearheaded the introduction of Augmented Reality with 'Virtual Try-On Makeup,' enabling customers to explore new ways of engaging with our products.
One of the most formidable projects I encountered was merging the Myer and MYER one registration and login journeys. This endeavor coincided with the peak of the COVID-19 pandemic, demanding urgent digital investments to ensure Myer's survival. With a newly formed digital team and impatient executives, we tackled this complex challenge head-on.
Project Objective:
MYER one (M1) is one of Australia's most recognizable brands, yet customers and visitors expressed frustration over the separate experiences offered by Myer and MYER one. Our primary goal was to audit and redesign a unified experience that would seamlessly integrate both brands within a single journey, thereby enhancing the shopping experience and generating increased customer loyalty and lifetime value (LTV).
To complicate matters, our technology constraints prevented us from re-platforming legacy systems such as WCS (Myer) and Salesforce (M1). Consequently, we adopted an iterative build approach for each touchpoint, including combined registration for Myer and M1, as well as the delivery of exclusive M1 pricing across both platforms.
Overview
End-to-End Sr. Product Designer: Creating a Seamless Customer Experience
Objective:
My role as an End-to-End Product Designer was to streamline the customer journey by enabling customer to register for both Myer online and MYER one simultaneously, eliminating any account management complexities.
Customer Challenges:
Inability to Login with MYER one Credentials: Customers encountered difficulties logging into Myer.com.au using their MYER one credentials, resulting in frustration and hindering their online experience.

Confusion and Forced Account Registration: Users attempting to log in often found themselves forced into a new account registration path, leading to confusion and a fragmented user experience.

Unreliable Data on User Impact: The exact percentage of users affected by these issues remained unknown due to a lack of reliable customer account and transactional data. However, the problem was evident in NPS/VoC survey feedback.
Approach:
Prioritizing Key Conversion Elements: To address these challenges, our focus was on optimizing key conversion elements and pages, aligning them with eCommerce best practices.

Streamlining Branding Decisions: Recognizing that branding decisions would require significant time, we prioritized them first, such as introducing color changes and new branding page elements.

System Constraints: Due to system constraints with MYER one on Salesforce and Myer on WCS, full consolidation was not possible. However, we aimed for a cohesive customer experience within these limitations.
Customer Benefits:
Simplified Registration Process: Customers would enjoy the convenience of a single registration form, reducing the complexity of managing multiple accounts.

Reduced Confusion: By streamlining the login process, customers would no longer be confused by forced account registrations and disparate login paths.

Seamless Integration of MYER one: Customers could seamlessly link their MYER one account from day one, ensuring a smooth transition between platforms.

Elimination of Duplicate Efforts: With a unified registration process, customers would no longer need to enter the same data on two separate websites, saving time and effort.
Business Benefits:
Increased MYER one Registrations & Tag Rate: A simplified registration process would result in higher MYER one registrations and increased usage of loyalty tags, boosting customer engagement.

Step towards Single Sign-On/Up: This initiative served as an incremental step towards achieving a single sign-on/up solution, enhancing the overall user experience.

Database Convergence: The integration between the WCS and Salesforce databases created a convergence, enabling more complete MYER one customer profiles.

Enhanced User Data Quality: By eliminating duplicates and ambiguous data, the database would contain high-quality user data, providing valuable insights for business operations.
Guiding Questions:
Validating the Problem: What customer verbatim exists in NPS/VoC data that supports the identification of this problem?

Field Dropout Analysis: What is the dropout rate in Google Analytics for the relevant form fields?

Leveraging Existing Resources: Are there any existing research or design files (e.g., Figma) available in the Research Repo that can inform our approach?

Documentation Review: What documentation do we have regarding the customer problem and the Jobs-to-Be-Done (JTBD) framework?

Backend Constraints and Business Rules: What are the specific system constraints and business rules that we need to consider?

Ensuring Transparency in Initiative Requirements: How can we track changes in initiative requirements more transparently to maintain project clarity and alignment?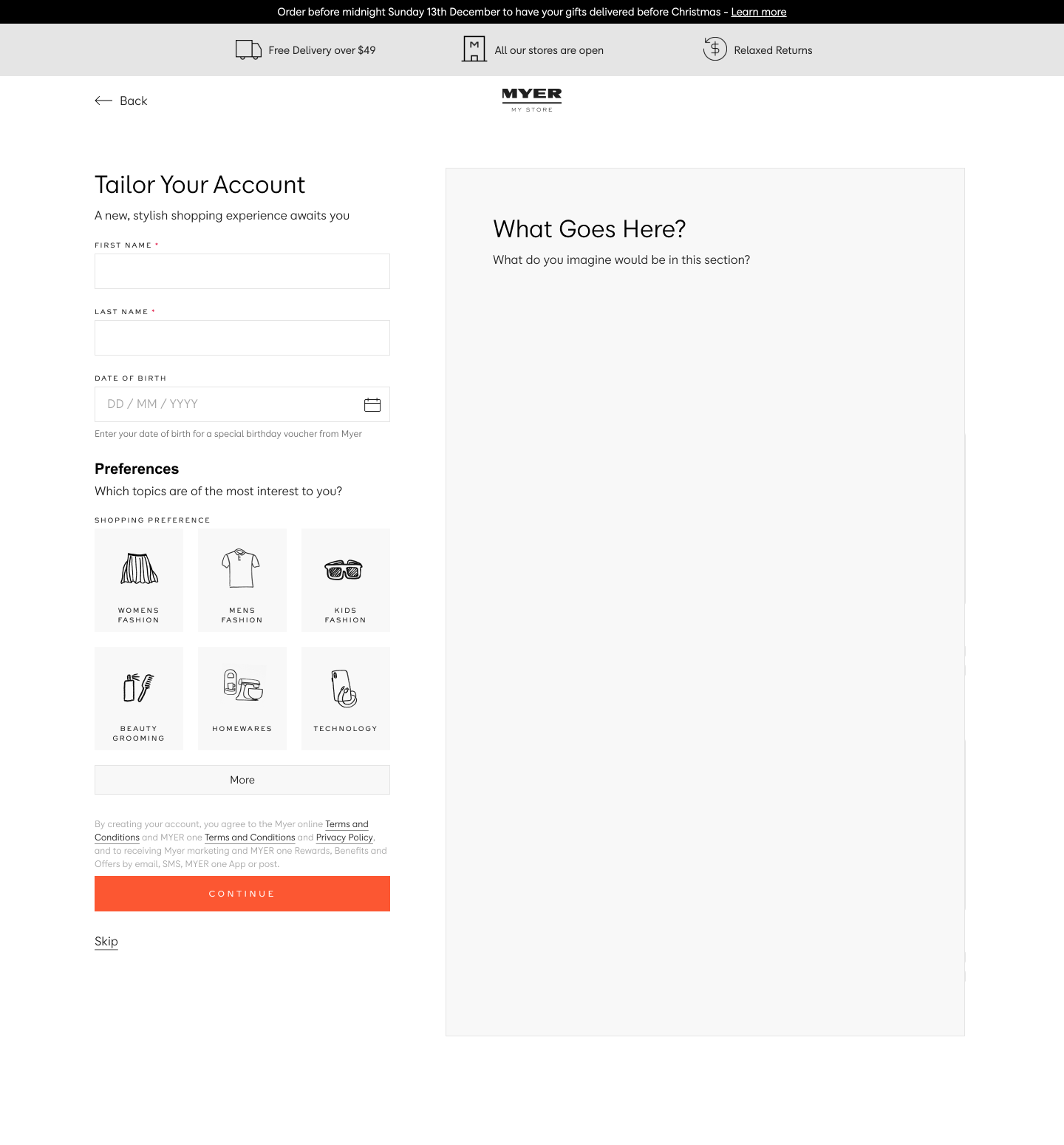 Stakeholder Workshops: Informing Product Development
Product Stakeholder:
To inform our concept development process, we conducted a thorough analysis of leading Australian eCommerce competitors and leveraged UX benchmarking from the Baymard Institute.
Key Myer product teams and the MYER one team participated in a series of collaborative workshops, generating valuable insights and fostering discussions on the goals and objectives of the new combined sign-up process. The workshops served as a platform for diverse perspectives and ideas to emerge, ensuring a comprehensive understanding of the project's scope.
Key Findings:
Simplified Initial Registration: The workshops highlighted the importance of streamlining the registration process by implementing a straightforward email and password setup as the first step.

Progressive Profiling: Recognizing the significance of capturing additional customer information, we introduced progressive profiling, strategically placing data collection points throughout key journey entry points.
By harnessing the collective expertise of the stakeholders and aligning their ideas with user research, we were able to develop concepts that best catered to the needs and expectations of both Myer customers and the MYERone loyalty program participants.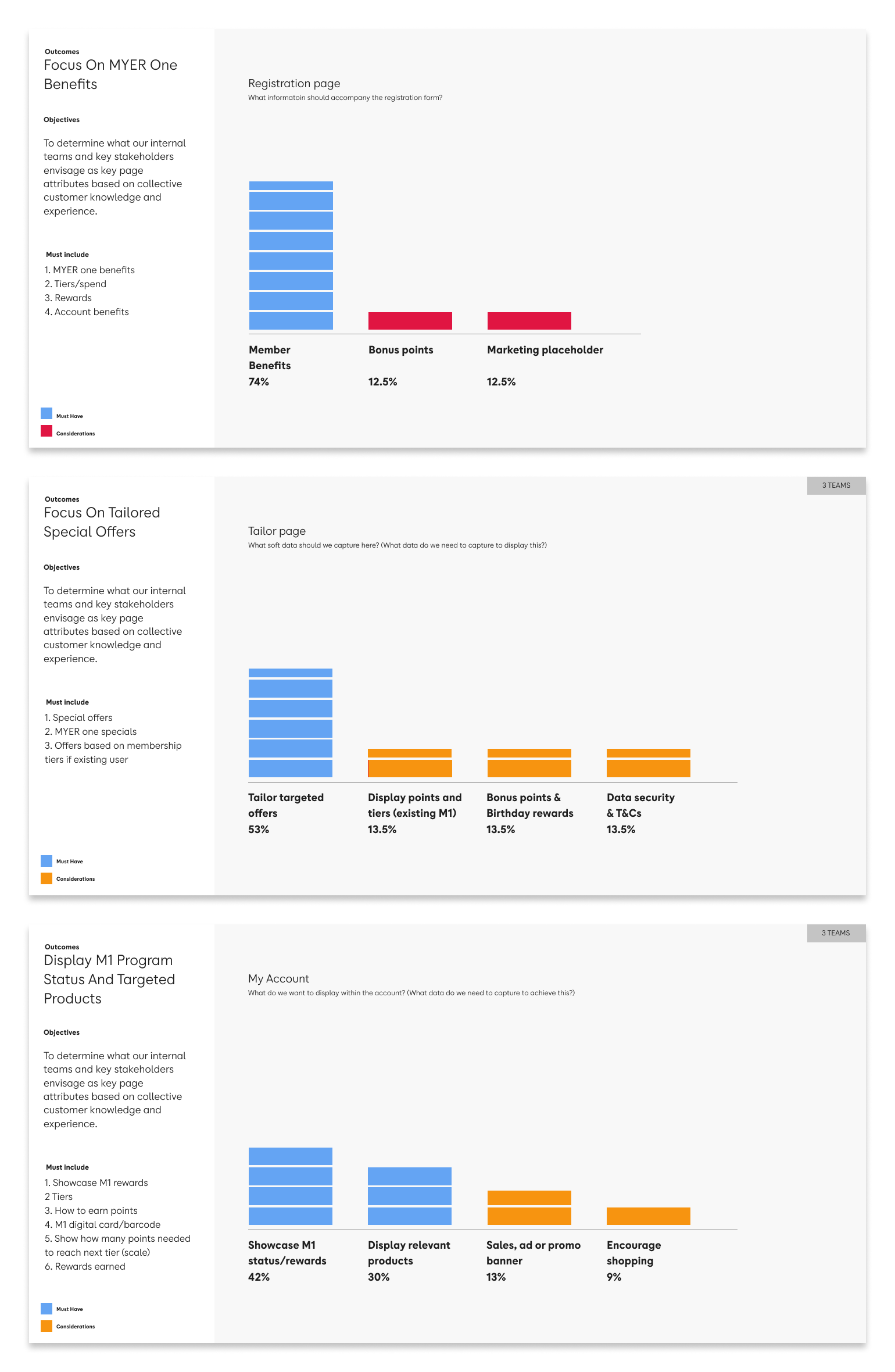 Internal Test Results: Informing User Experience Enhancements
Analyzing drop-out rates on form fields, I conducted extensive user testing on competitor websites to refine our registration process. Based on the test results, I streamlined the registration page to include only email and password fields, while ensuring strong benefits and a compelling call-to-action.
To capture additional user information, all non-essential data fields were relocated to a progressive profiling modal. Users had the option to complete this profiling process at their discretion. If skipped, the information could be updated on the account settings landing page or during the checkout process.
Key Workshop Results:
During collaborative workshops involving over 40 key stakeholders, valuable insights were gathered to guide our user experience enhancements. Here are the notable findings:
Registration Page:
74% of participants anticipated that members' benefits would be prominently displayed on the registration page, highlighting the importance of emphasizing the value proposition from the outset.

Tailor Page:
53% of participants expected to receive targeted offers based on their preferences, indicating a strong desire for personalized experiences.

My Account:
42% of participants expressed the expectation of seeing their MYER one status, rewards, and relevant product recommendations on the My Account page, underscoring the importance of providing personalized and relevant content.
These findings not only validated our approach but also fueled discussions on future rounds of user feedback. By keeping the conversations focused on optimizing the user experience and aligning stakeholder expectations, we ensured a user-centric design process that would lead to further improvements based on real user feedback and insights.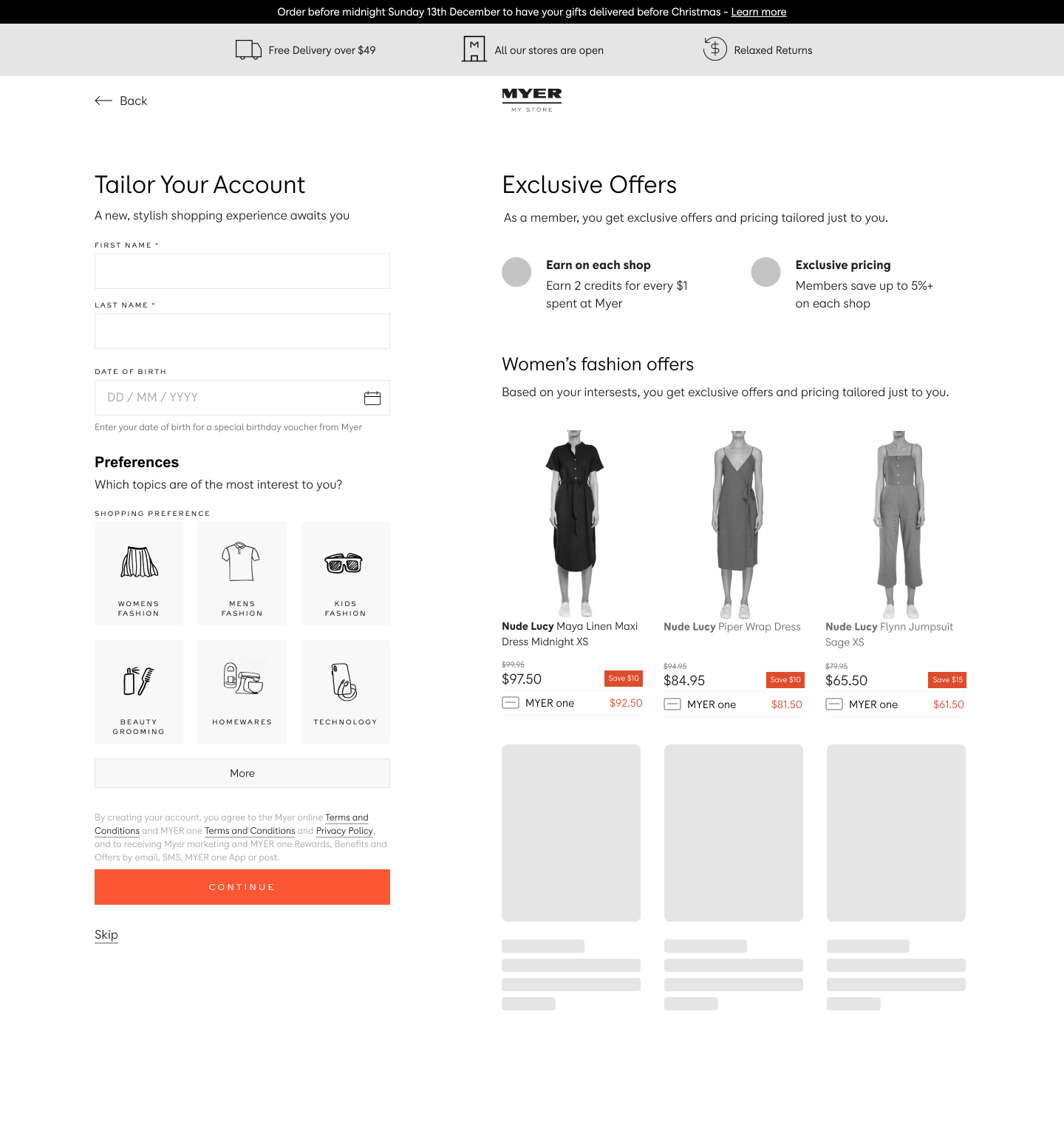 Prototyping
With budget allocated, I started running concept tests (Askable, UserTesting).
Several rounds with novice users (new to Myer, new to MYER one), before moving to veteran users (Existing Myer, Existing MYER one) with the primary user group (female 25-34 years old). Refined concepts further, prepared reports in Powerpoint for circulation and continued to check-in with key stakeholders.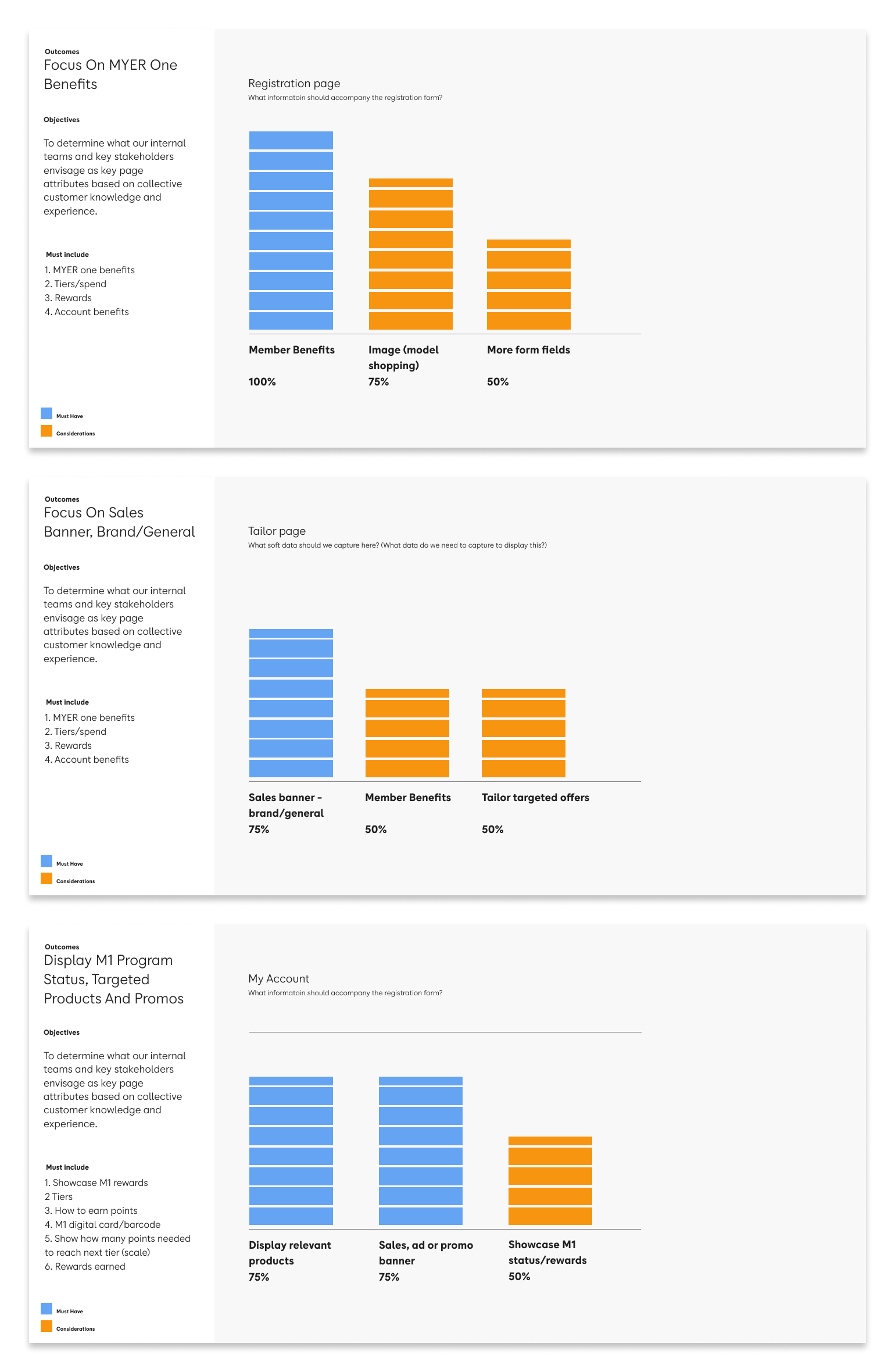 User Test Results
Two rounds of user testing and reporting prepared. The results of these reports were presented back to MYER one and Myer teams.
Multiple minor variations were created through testing to funnel stakeholder discussions around preference to A/B testing campaigns.
I continued to socialise and periodically update key stakeholders/decision-makers to solidify buy-in.
October 2022 Update: The first release of combined registration displaying benefits was placed into production in March 2022, since then, Myer has run various split tests, and still this design remains unchanged as the highest converting (CvR), seeing an uplift of over $27m in Gross Revenue from joint account creation, during the period.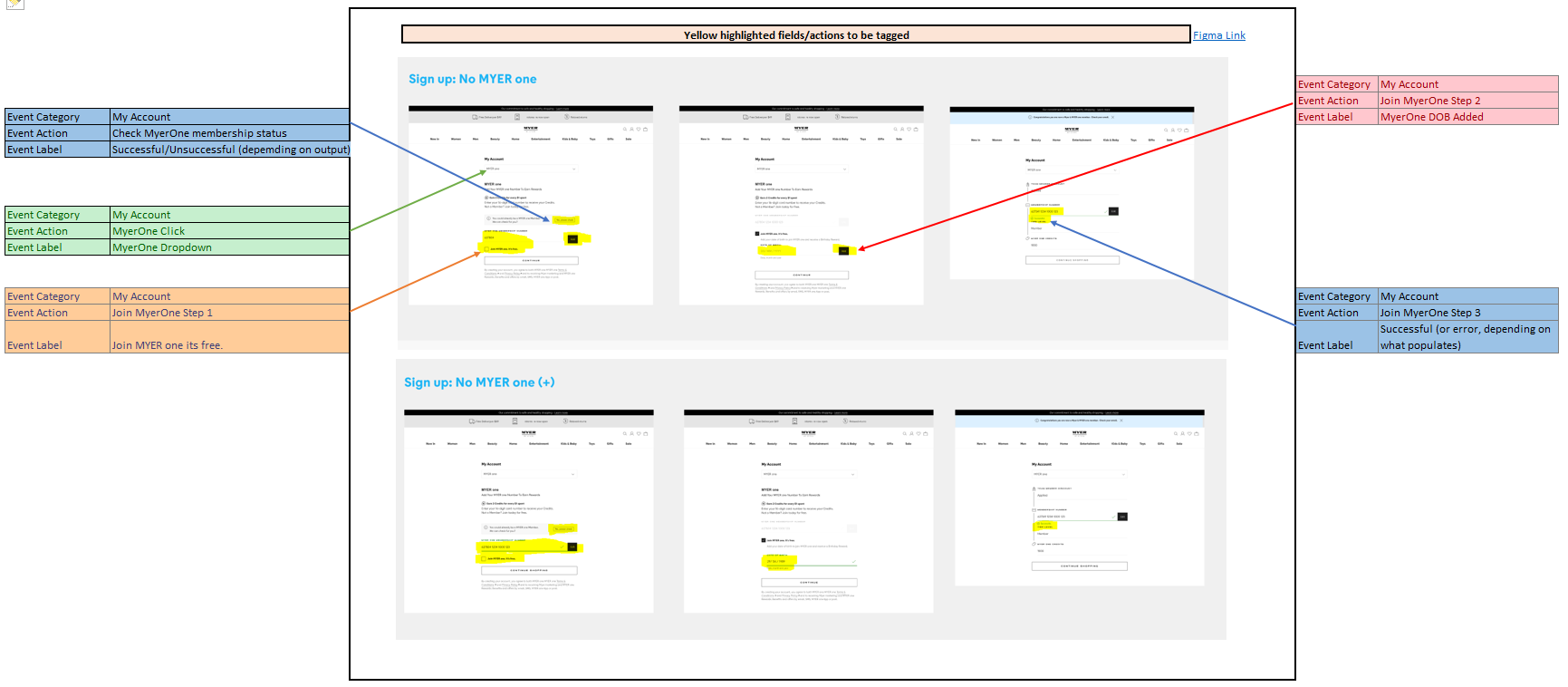 Tag Manager & Confluence
I provided detailed functional documentation (user cases and acceptance criteria) in Confluence to inform engineers and the broader delivery team.
Working with both front-end and back-end engineers, Storybook was reviewed for component compatibility. Jira sprint cards were reviewed and updated to reflect both GTM and functional requirements, feeding into both engineering sprints and DLS update work.

I continued to support front-end and back-end engineers through to delivery.
Flagship
MYER one EXCLUSIVE PRICING
With combined signup in place, new opportunities were possible
By creating a merged view at registration and login, we looked to bring more of MYER one's value onto the Myer website. We looked to create MYER one discounts on select products to improve retention and AOV.
Previously to register for MYER one, users had to visit a separate website or use the app. A large proportion of users did not know that Myer and MYER one were separate, only finding out once they tried to reset a password and got stuck. A significant percentage of our users only had an MYER one account. This caused issues at login, interrupting check-out and causing cart abandonment.
Now that this issue has been resolved on the front-end, we would look at applying a new pricing layout and offer for MYER one.
UX Benchmarking
Analysis of Baymard UX Benchmark results and competitive analysis of local competitors was the first step.
The assessment of 63 major eCommerce sites and 245 product pages across leading retailers globally, yielded clear insights into product page attributes that adhere to or violate best practices. These insights were factored into the design of key conversion elements and pages, namely; Product Tiles and Product Pages.

Baymard Institute is a research body that provides these indicators to determine what world-class pages must look like to drive conversion and an outstanding customer experience.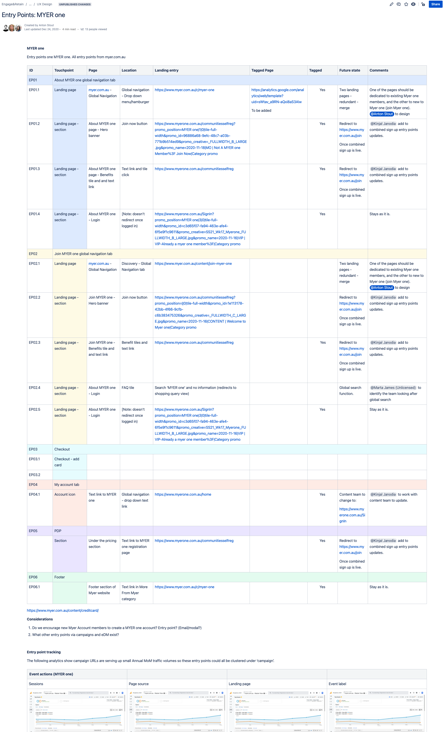 Entry-Point Mapping
In parallel to focusing on key elements. I audited both MYER one and Myer to understand the entry points between both websites.
I mapped out all entry points in order to redesign or build a case for repurposing or decommissioning links and pages.
Walkthroughs were undertaken with key stakeholders to showcase the entry points. WIP
User Flows
A primary user flow was developed for internal team communication purposes. Several sub-user flows were created for engineering to show the impact Exclusive pricing would have one key scenarios around customer Myer and/or MYER one membership status.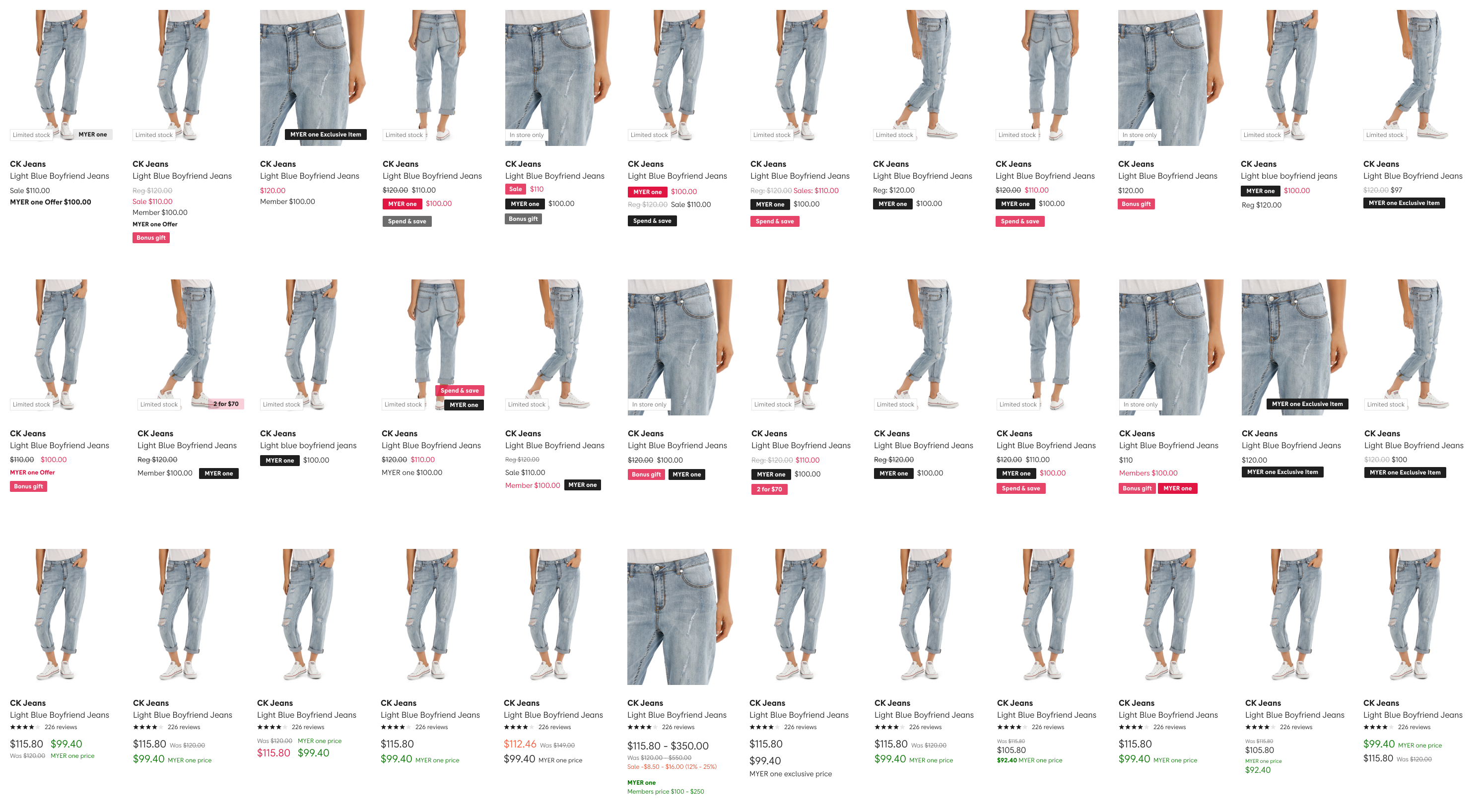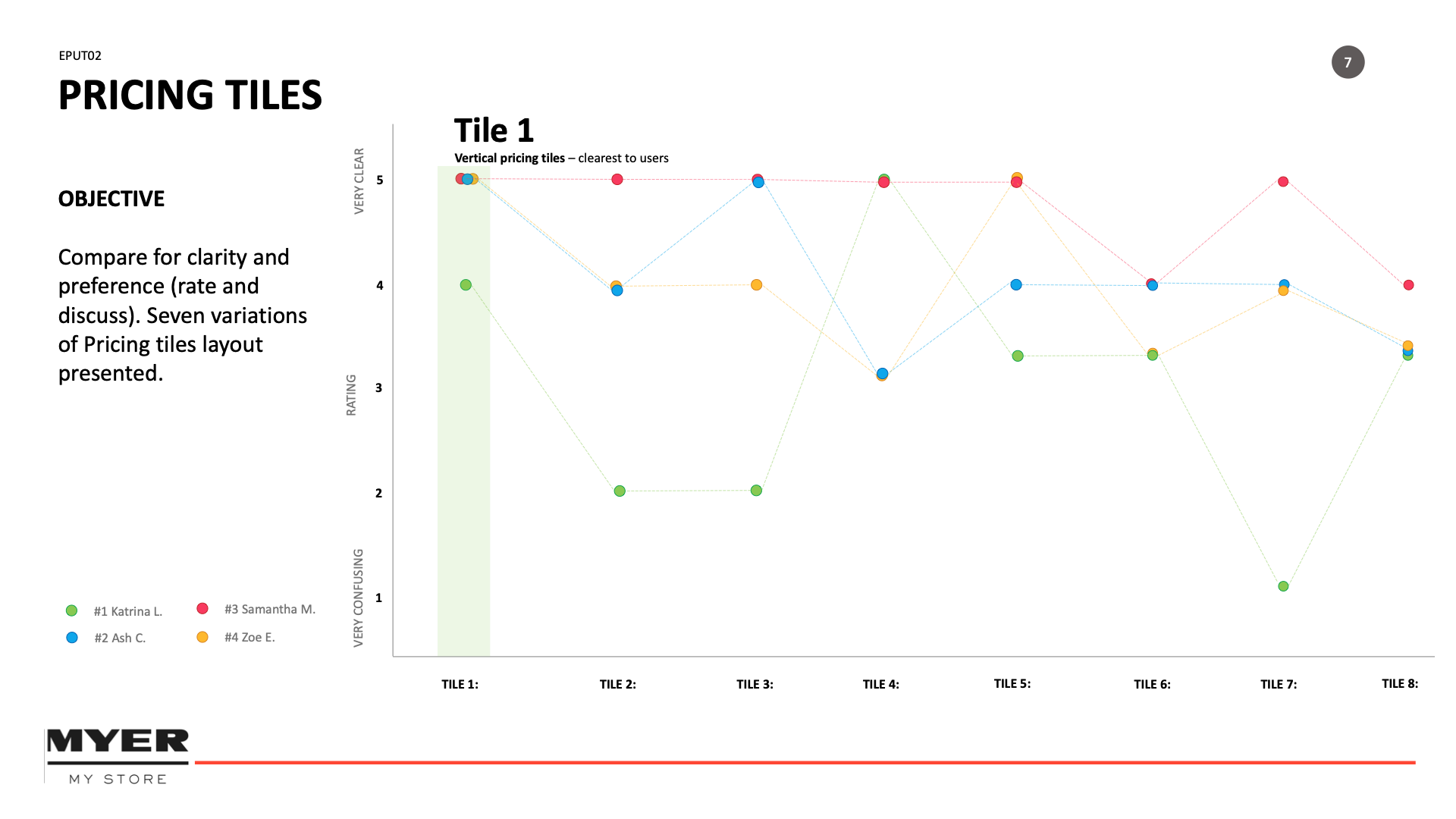 Product Tile Testing
Several tests were undertaken to test:
Online task testing was conducted to determine colour associations with Sales, RRP and MYER one and preferences towards the existing Myer and MYER one brand colour palette.

User tested through two rounds with users (4-5 participants per cohort). Through both rounds, one concept won twice, voted highest on clarity, preference and attention dimensions.
I arranged testing participants; test brief, consent forms, schedule and reporting.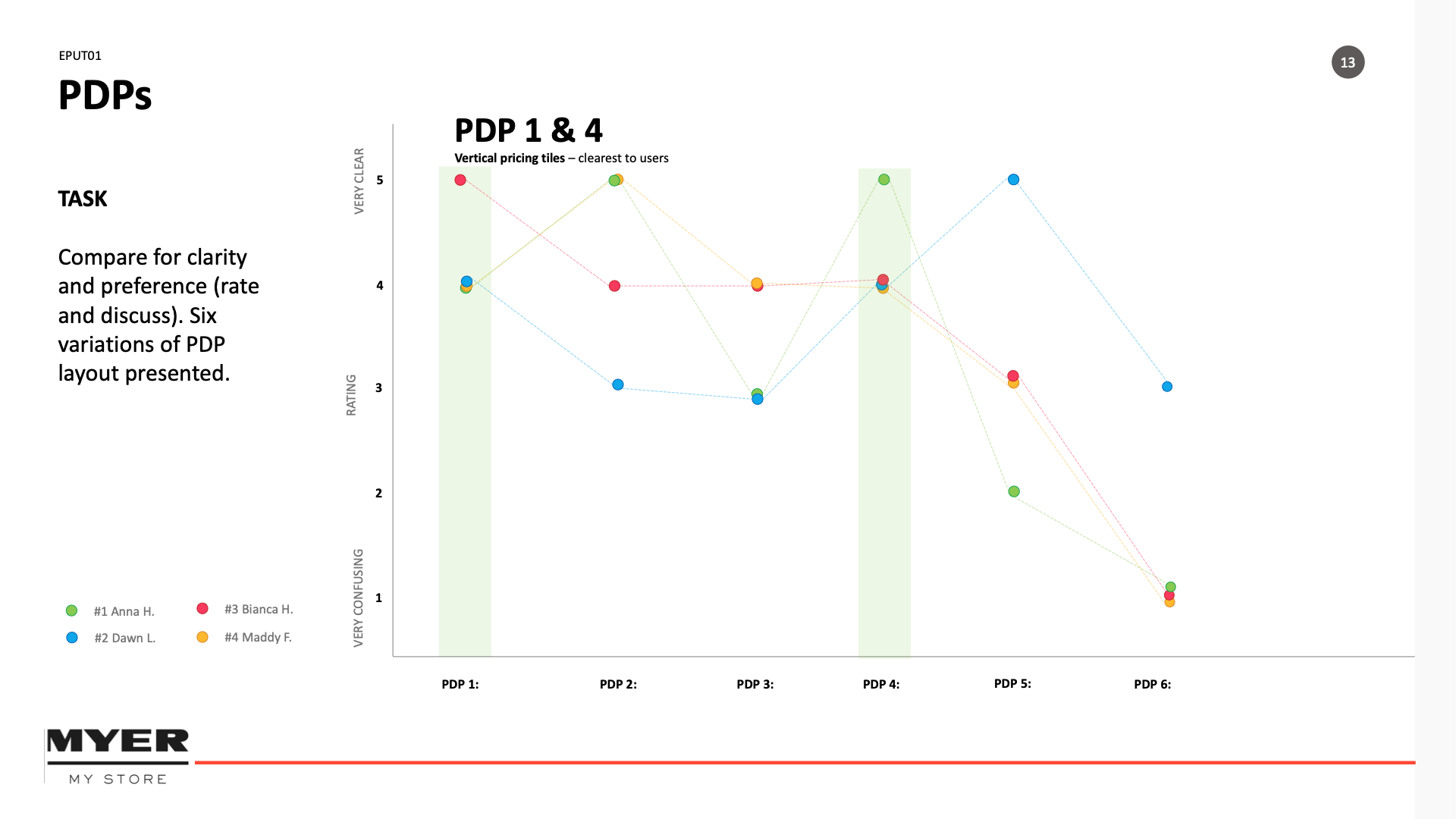 Product Page Testing
Two variations were equal winners across both testing cohorts.
One was classed MVP internally as we would be able to deploy this version rather quickly with little issue.
The second variation was the clear winner in terms of experience uplift but required backend and business rule changes that were scheduled for future quarters.
Key challenges
Several key scenarios exist:
EPS1: Existing Myer, existing MYER one (linked account) - Login as normal, continue to checkout, price applied at checkout.

EPS2: Existing Myer, existing MYER one (not linked) - Login as normal, continue to checkout, apply M1 at checkout

EPS3: Existing Myer, new to MYER one - Login as normal, unable to register M1 easily (must visit myerone.com.au). No ability to register M1 within checkout.

EPS4: New to Myer, new to MYER one - Register as normal (SSU), continue to checkout. Price applied at checkout.

EPS5: New to Myer, existing MYER one - Attempt to login to Myer as normal. Users attempt to login to myer site with M1 creds. (NPS/Pulse issues)

EPS6: Guest checkout - Apply existing M1 at checkout. No ability to register in checkout
Priming users to login with MYER one credentials was going to be an issue that, based on current state, took users away from the purchasing journey and to another site or disruptive flow. This was the case across several scenarios (EPS2, EPS3, EPS5).
I created journey's for each scenario introducing a MYER one intercept modal post-login (img: below | top) and repurposed the current MYER one side draw (img: below | bottom), allowing the users to register for MYER one or link their account with minimal disruption and avoiding them moving off-screen.


UI Design
Once signed off, I shifted to creating the UI screens.
The end to end screens were created for each scenarios (EPS1 - EPS6), all documentation outlined in Confluence and Figma file with clear naming conventions complete and showcased to the engineers.
Milestones:
Colour: New MYER one Green was signed off as a colour based on online task testing results, unequivocally seeing green the customer's choice along with adhering to AA Level WCAG guidelines on a white background.

Layout: Product Tiles and Product Pages sign-off based on clear testing winners. With future versions mapped out for variation testing (A/B).

Journey: MVP released based on existing Registration flow. To enhance the journey, back-end and business rules need to change to optimize the journey any further.